Studio 1330's beginnings were relatively humble. It was one of three outbuildings surrounding an 1860's log house situated on an acre of ground purchased in 1987 and described as a "handyman's special" — an apt description, considering all of the structures required extensive work.
The previous owner had used the structure for storage and referred to it as "the old schoolhouse." It turns out the "old schoolhouse" wasn't actually a schoolhouse at all. It was a small building located on the campus of Western Maryland College, now known as McDaniel College, which had been dismantled sometime during the early 1900's and then reassembled on the spot where it sits today. There was evidence that it had been converted into a small tinkerer's shop after its move from the college.
The focus of the renovation was directed initially toward the log house and two of the three outbuildings: the summer kitchen, and the detached garage. During this period of reconstruction, the "old schoolhouse" sat dormant for years, used only for the storage of tools, building materials, and miscellanea. There had been discussions of returning the building back into a workshop, or remaking it into a rental apartment, but those ideas were eventually abandoned.
It was in 1999, the final year of an MFA program, that the idea to convert the structure into an art studio began to form. The space was large enough to house a thesis installation, so the potential existed for it to become a working studio. However, the wood construction made the fabrication of metal sculpture impossible due to the potential of fire, so the idea was shelved for another 13 years.
In 2012 the art studio idea was rekindled, but with a twist. The "old schoolhouse" would double as a studio-gallery; a space that would allow for drawing and painting and, more importantly, for the display of completed artworks. Renovations began in earnest during the summer of 2013 and were largely completed by December of 2015.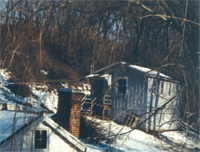 Studio 1330 building circa 1990.
Studio 1330 building June 2016.